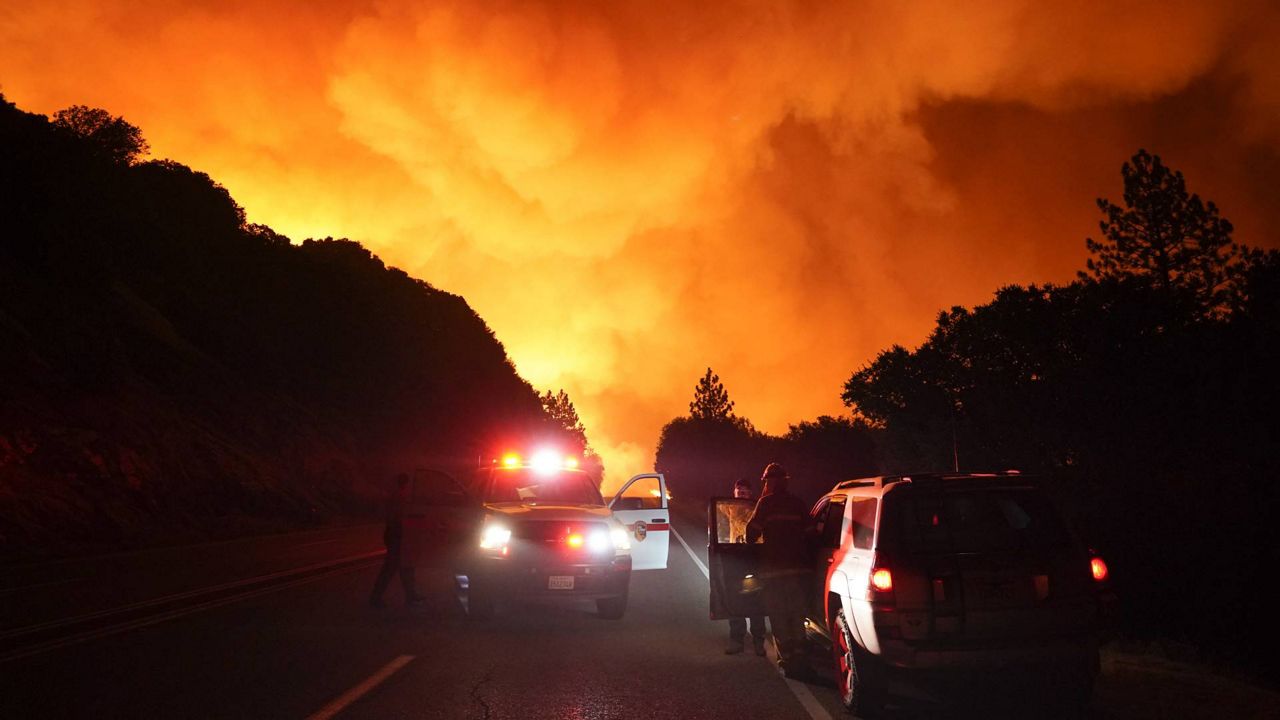 CALIFORNIA — Above-average temperatures and high winds are driving the worst fire season in California history. About 14,000 firefighters are currently battling 25 major blazes that have already burned 2.2 million acres throughout the state, from Napa to Los Angeles to San Diego Counties, according to the California Department of Forestry and Fire Protection.
The situation is only expected to get worse. 
Tuesday morning, Cal Fire issued a red flag, or fire weather, warning effective through Wednesday in much of California due to strong winds, low humidity, and high temperatures. The strongest winds are expected Tuesday night and Wednesday morning with gusts between 35 and 55 miles per hour.
"With the fires already burning, that's a huge concern," said Lynne Tolmachoff, public information officer with Cal Fire. "If we get any new starts, these types of winds can cause them to spread extremely rapidly, which is extremely dangerous and hard to control." 
#RedFlagWarning in effect today through Wednesday in much of California due to strong winds, low humidity and high temperatures. This is #CriticalFireWeather so use caution when outdoors. https://t.co/upBwccxXFO pic.twitter.com/tDd8NBwIkG

— CAL FIRE (@CAL_FIRE) September 8, 2020
Tolmachoff said her agency is especially concerned about the state's most populated areas because 95 percent of all fires are caused by human activity. 
"The more populated areas that bump up against what we call the 'wildland urban interface' is the most concerning," she said. "If a fire starts in those areas, evacuations and trying to keep people safe are a challenge." 
The city of Monrovia, about 20 miles east of L.A., is currently under an evacuation warning due to the Bobcat Fire, which broke out in the Angeles National Forest north of L.A. Sunday and has burned more than 8,500 acres. It is zero percent contained.
"The biggest concern we have is the wind event that's going to occur today," said Andrew Mitchell, public information officer for the Angeles National Forest.
[Update] #BobcatFire is now 8,553 acres and 0% contained.

— Angeles_NF (@Angeles_NF) September 8, 2020
On Monday, the Angeles National Forest announced a one-week closure of all activity in the park that includes all fire service roads, trails, campgrounds, and day-use sites. 
Mitchell said the winds are expected to drive the Bobcat Fire toward the cities of Monrovia, Duarte, and Bradbury east of L.A. As of 10 a.m. Tuesday, the fire was two to three miles from the Monrovia border, Mitchell said. Monday, it was three to four miles away. 
In a statement on its website, the City of Monrovia told residents, "We have been told to plan for the fire to get worse, and we are asking all residents to be prepared and ready if an evacuation order is issued." About 37,000 people live in the city.
About 100 firefighters are now battling the Bobcat Fire, including teams with the U.S. Forest Service and the L.A. County Fire Department, as well as firefighters from the surrounding foothill communities of Arcadia, Monrovia, and Sierra Madre. 
"We're facing limited resources because there are so many fires burning through California right now," Mitchell said, adding that more firefighters will join the battle against the Bobcat Fire in the next day or two.
There remains an Evacuation Warning, which means that residents in the foothill area below the Bobcat Fire must be ready to evacuate if an Evacuation Order is issued. Please continue to remain alert as Santa Ana winds are expected throughout the day.

— City of Monrovia (@MonroviaCA) September 8, 2020
Fire season is year-round in California, but this year's fires began to worsen in mid-August when a series of lightning strikes set off hundreds of small blazes in the Bay Area that grew into major wildfires. Cal Fire said there were more than 14,000 lightning strikes last month. The SCU and LNU Lightning Complex blazes have burned almost 800,000 acres so far, and are now 94 and 91 percent contained, respectively.
Fire officials ordered a mandatory evacuation of the LNU fire area in Napa, Sonoma, and three other counties north of San Francisco at 11 p.m. Monday, citing "immediate threat to life."
---
Related Stories
---
Several large wildfires have since broken out in the central and southern parts of California. The Creek Fire, which started Friday in Fresno County's Sierra National Forest, has burned 144,000 acres and is zero percent contained. At least 65 structures have been destroyed and 5,296 homes threatened, according to the Sierra National Forest Twitter feed.
The Creek Fire trapped 200 forest visitors "who found themselves surrounded by fire at Mammoth Pool campground," said Heather Noel with the U.S. Forest Service. The California Army National Guard was called in to evacuate them by helicopter. 
Creek Fire has burned 135,523 acres and is 0% contained, 65 structures destroyed, 5,296 homes threatened. pic.twitter.com/nZOLqSS00n

— Sierra Ntl. Forest (@Sierra_NF) September 8, 2020
Three National Guard helicopters picked up another 35 evacuees Tuesday morning who had been trapped in the Sierra National Forest's more remote camp sites. 
"This entrapment demonstrates the extreme risk we are facing this 2020 fire year," Noel said. "We can expect similar fire behavior in the coming days."
Randy Moore, Reg Forester, speaks to public/firefighter safety as Forest Service temporarily closes 8 natl forests in SoCal; & prohibits ignition sources on natl forests (campfires, gas stoves, etc.), & closes all natl forest developed campgrounds & day-use sites in California. pic.twitter.com/Imp7PcBwxS

— Six Rivers NF (@SixRiversNF) September 8, 2020
On Saturday, the El Dorado Fire in San Bernardino County and the Valley Fire in San Diego County started tearing through Southern California's inland areas. As of Tuesday morning, the El Dorado Fire has burned 10,574 acres and is 16 percent contained; the Valley Fire has burned 17,345 acres and is 3 percent contained. 
"We are prohibiting the use of all ignition sources on all national forests in California," U.S. Forest Service spokesman Randy Moore said Monday.
Cal Fire investigators said a smoke-generating, pyrotechnic device set off during a gender reveal party Saturday morning at El Dorado Ranch Park in Yucaipa caused the El Dorado fire.
On Monday, the U.S. Forest Service announced it was closing the Stanislaus, Sierra, Sequoia, Inyo, Los Padres, Angeles, San Bernardino, and Cleveland National Forests.
"California is facing unprecedented and dangerous conditions on our landscape," Moore said. "Our firefighting resources are stretched to the limit."