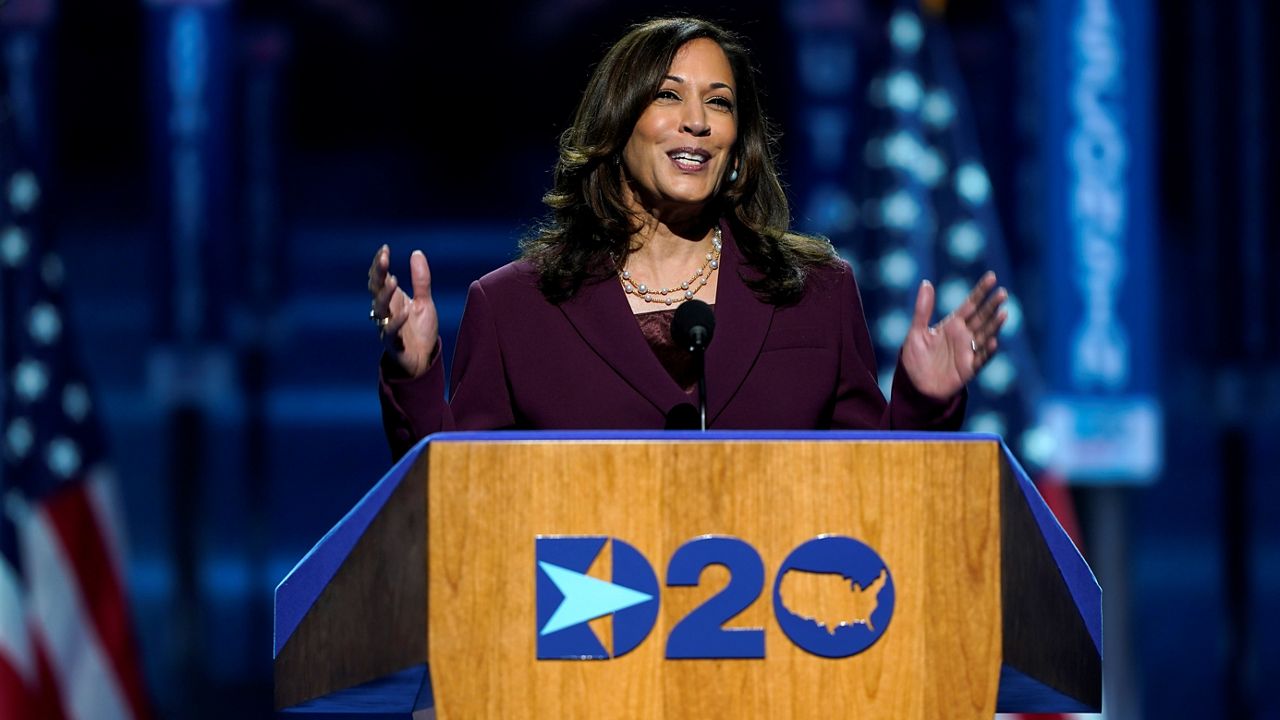 RALEIGH, N.C. – Democratic vice presidential nominee Kamala Harris said President Donald Trump is "not respecting our democracy" with his recent comments on voting twice in North Carolina.
"I think it's an act of desperation," she said of the president's comments on voting. "This is just yet another example of President Trump really not respecting our democracy and the integrity of our elections system."
In an exclusive interview with Spectrum News 1 anchor Tim Boyum, the California senator and former prosecutor also took the president to task over his response to the coronavirus pandemic.
"It is absolutely unforgivable that the president has played politics with what is a public health crisis," she said.
"He has played politics because clearly what is more important for him is to win this election than to hold up and protect the American people in a moment of crisis and put them first instead of his political interests," Harris told said.
The administration recently told states to prepare to distribute a coronavirus vaccine as early as November 1, just two days before the presidential election.
Asked if she would take a vaccine that was potentially rushed through, Harris said, "I'm going to trust the science and the public health professionals."
"We have seen that Donald Trump has attempted throughout this pandemic to muzzle the public health professionals," she said. "I'm going to trust the scientists to tell us when it's safe and then proceed accordingly."
Responding to recent reports of Trump calling American soldiers killed in war "losers" and "suckers," Harris said, "Our servicemen and women, our war fighters, they sacrifice so much for us."
"The commander in chief, the president of the United States, has as one of his most important duties to honor, to respect, and to protect the dignity as well as the well-being of our servicemembers," she said. "Joe Biden will be that kind of president, in stark contrast to who Donald Trump is."
"They always should be honored," Harris said.
When asked about recent Black Lives Matter protests, the most recent of which are taking place in the aftermath of the shooting of Jacob Blake in Wisconsin, and calls to defund the police, Harris said, "It's a false choice to suggest that you either care about law enforcement or you care about police reform, and I don't buy it."
"We have to support law enforcement and its mission," she said. "We also have to support the ideal of equal justice under law, and making sure that it is a system that is fair and treats everyone equal."
Harris, a former prosecutor, said police should be required to wear body cameras and stop using tactics like chokeholds.
"We're not going to stop funding police departments," she said, but emphasized the need for communities to also invest in schools, small businesses, and home ownership.
"Healthy communities are safe communities," Harris said.