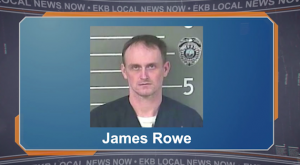 PIKEVILLE, Ky. –  The Pike County Commonwealth's Attorney's Office claimed another victory this week when a jury found an Elkhorn City man guilty of bringing a large amount of meth into the Pike County Detention Center.  38 year old James Rowe was facing charges stemming from an incident in July of last year in which Rowe attempted to smuggle meth into the jail following an arrest. However, Assistant Commonwealth's Attorney, Donald Smith says this case was about much more than the drugs alone.
"We want to send a message about the security of our jails and how important that is to us," said Smith.  "We also want to send a message about taking a tough stance against persistent felony offenders, which Mr. Rowe was.  After so many chances, they don't deserve any more."
The trial, which began on Monday of this week, only lasted two days. However, Rowe, who was out on bail pending the outcome of the trial, decided not to show up on Tuesday.  "Mr. Rowe did not appear on the second day," explained Smith.  "Judge Coleman gave him ample opportunity to appear and delayed the trial for a few hours.  He issued a bench warrant.  Our local police forces made a really strong effort to bring him in and they've not been able to do so yet.  In fact, he's still at large."
Despite Rowe's absence in the courtroom, the trial wrapped up and the jury returned a guilty verdict and recommended a 20 year prison sentence.  Anyone who knows the whereabouts of James Rowe is asked to contact his/her local law enforcement agency.
[su_youtube url="https://www.youtube.com/watch?v=w-zy-nA1v04&feature=youtu.be" height="340″]